Even though it was Easter Sunday, it felt like just another day away at college. So when it looked like there would be storms in Eastern Nebraska, I jumped at the chance to chase them. As we crossed the Missouri river going toward Blair Nebraska, we saw an unusual sight. It was the sight of what could be best described as a low topped, low precipitation supercell. Like most of our successful chases, a warning was issued for the storm as we approached it.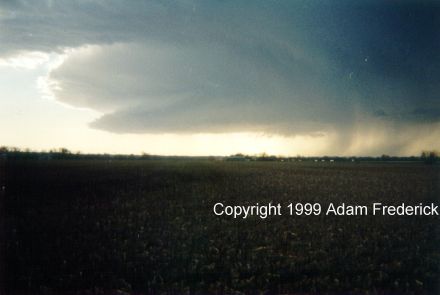 As we approached the storm, the picture above is what we saw. The storm itself was only about 25,000 to 30,000 feet in height. The storm was rotating quickly and was dropping very little precipitation. A small wall cloud can be seen in the picture above. Shortly after this picture was taken, the following warning was issued.
Even though a tornado was reported, we never saw one. There might have been a brief touchdown, but that would have been about it. The storm continued to move across the Missouri river into Iowa. We continued to stay in front of the storm. The storm was rotating nicely and had a very nice beaver tail as seen in the video capture below.
This video was taken shortly after the warning below was issued for our county.
The storm continued to move into Iowa. Like most storms, it hit the Less Hills in Western Iowa and instantly stopped rotating. From there the storm continued to die.
For more video captures of this storm, visit the 1998 video captures section in the Photo Gallery.