While SPC and others didn't see this as being a potential storm day, I was excited about this day two days in advance. I have always been told that I get hyper a day or so before a tornado strikes, and this day proved that theory right again. There was rain that fell overnight but the skies cleared out early in the day. The sun's heating was very strong. Low dewpoints were an early concern, but the sun helped to evaporate some of the rainfall making for locally higher dewpoints. By afternoon, it was feeling pretty warm and muggy.
We started out in Mason City, Iowa, and knew that we needed to go further west. Our start was later in the day than we hoped for and there were already severe storms out in Western Iowa.
Highway 18 west looked like it would be the best path since most of the storms were moving ENE. I thought that if any of them became supercells, they would turn right and head toward us.
As we were headed toward Britt, Iowa, around 4:00 pm, a second line of storms formed. There was a line that was positioned in a SW/NE line from west of Algona to Mankato, and there was a second line that was oriented WSW/ENE that extended from E NEB into WC IA. We were heading toward the SW/NE oriented line.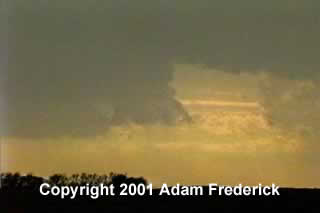 When we got to the west of Britt, we ran into this storm (picture at left). The storm itself was rotating and it appeared to have a mesocyclone. This was confirmed a little later by the NEXRAD storm info tables. As we watched this storm, something just didn't look right. It appeared like the storm was almost splitting. The distance between what appeared to be the meso and the area of precipitation was growing. Eventually it became obvious that this storm was dying out. The instability was still in this area plus it was about 3 hours before sunset. Therefore, I figured that something else would surely to develop.
There were still storms to the north of this storm so we moved NNE so we could stay near the clear skies on the back side of this storm. It also appeared that the whole line had more of a northerly component to its motion than the easterly component earlier.
A tornado warning was issued on a storm in Southern Minnesota, but it was far away and I still thought that if there was going to be a good tornado, it would occur on a storm that would form in that area of clear skies that we were watching.
We continued to follow that area north toward Lake Mills, Iowa. As we were doing so, we started to notice some clouds forming in that area of the clearing. While they would go up and then dissipate, it was an indication to us that something could soon form.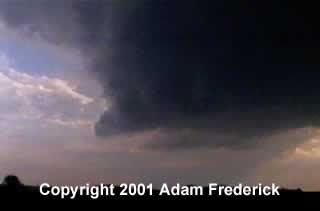 As we were making our way into Southern Minnesota near the city of Emmons, MN, along Highway 69, one of those updrafts appeared to get better organized.
This storm was showing that it had very strong upward motion to it. As of this point, around 6:15 the storm still didn't have any indication of rotation. That would soon change.
We sat near Emmons and watched the storm further develop. The storm didn't really have much in the form of rain as of yet. As the storm got closer we moved farther north.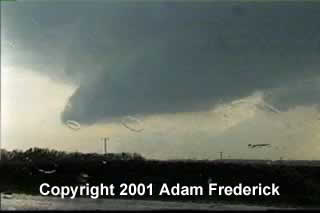 We sat to the north of Emmons as the storm continued to organize. Eventually this meso formed on the storm. Out in front of this storm was some rain. The rain concerned me a little because I was afraid that the visibility would be diminished.
Eventually another sign appeared that the storm was strengthening further. We started getting hail. First it was pea sized hail and quickly grew to marble sized hail. Since I hate hail and our only road option was to go farther north into the heart of the storm, I chose to get out of that position and moved farther south.
Because of the Minnesota road grid, we were unable to stay in front of the storm. The roads either took us NE into the storm or SW. So when we got back into Emmons we had to let the storm pass over us. This would later turn out to be a good thing because it probably prevented us from getting into a position that could have put our lives in danger.
Watching the swirling over our heads was amazing. Once it had passed by we could make our way NE. We went NE to the city of Twin Lakes in Southern Minnesota.
When just to the east of Twin Lakes, we stopped to look at the storm. What can be seen in the picture above is a little funnel to the left of the rightmost tree. This was when we realized that since there was no warning out it was time to call the National Weather Service, but there was no answer.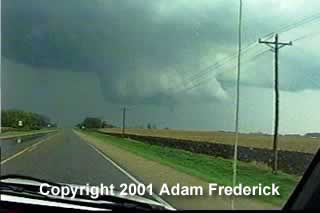 As we chased the storm and saw a well defined rotating wall cloud and funnel form (see picture on left), we continued to try to call the National Weather Service with no answer. We later found out that the phone company had changed area codes and the call forwarding and/or notification message had since expired.
I knew that it was just a matter of time before this storm dropped a tornado. The rotation in the storm was amazing and it showed many signs of intensification. At this point we didn't really know what was ahead of us. We didn't realize that the town of Glenville, Minnesota, was right in this storm's path.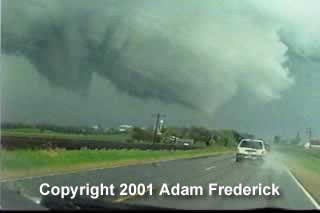 The tornado first touched down just to the west of Glenville (picture on right). We could only tell that it was a tornado at this point because we started seeing dust and debris above the tree line in the picture.
The tornado grew in size and strength quickly as it moved initially off to the ENE. It seemed to be moving at a rate around 30 mph.
As we popped up over the hill, we could see that the tornado was just finishing up going through a city.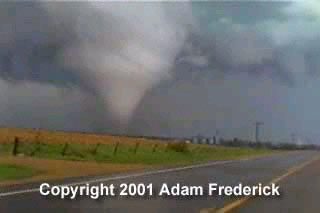 In the picture on the left, you can see the town of Glenville just to the right of the tornado--marked by the grain bins. The tornado was probably a quarter mile in diameter at this time.
It was a classic stovepipe tornado. We were very fortunate to have such good visibility, considering our position. Typically, if you are behind the tornado, your visibility is poor because of the rain wrapping around behind them. As I stated earlier, it turned out to be a good thing that we were not in front of this tornado. Otherwise, something in Glenville would have impeded our progress and trapped us in front of the oncoming maelstrom.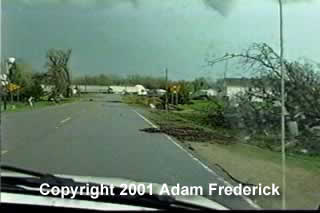 As we came into the city of Glenville, there were trees and power lines down and parts of people's houses and farms across the road. If you look ahead of us in the picture, you will see a train. That train is across the only road on this side of town.
It didn't sink in at this point, but if we had been in front of the tornado, we would have been sandwiched between that train and the tornado. Since we would have been in a vehicle, our options for staying safe wouldn't have been good, and I am glad I never had to make the decision of what would be the best thing to do in that situation. Since this reality had not yet sunk in, we turned around, and we found a gravel road around the town and the train.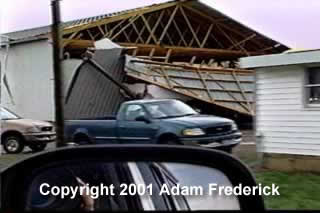 Because of the damage in the town, it was hard to find our way through. There were buildings, trees and power lines lying across many roads. Emergency crews were just coming into the city behind us.
The sirens in Glenville weren't sounding, and it turns out they never did. A severe thunderstorm warning was issued after the tornado went through Glenville, and the tornado warning soon followed. Storm spotters saw the tornado, but their communications equipment met some sort of electrical interference and didn't work. By the time the spotters in the town saw the tornado, it was too late. The sirens couldn't be sounded because the tornado had already cut power to the warning system.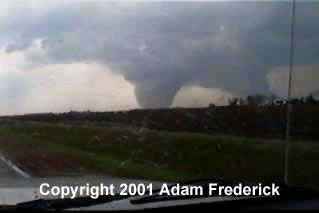 We continued to follow the storm off to the NE snaking our way north on some roads and then east when we could. We eventually caught back up with the storm just to the SW of Austin, Minnesota.
The storm was a monster. It had grown into this tornado that looked to be half a mile wide at times. It had developed a more northerly component to its travel and had the city of Austin in its path. The tornado had now been on the ground for over 30 minutes and had traveled over 15 miles. It wasn't done yet.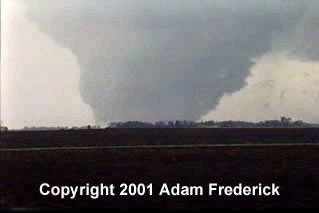 The tornado had traveled just over 21 miles, at times doing F2 damage. Eventually, the tornado got rain wrapped, but it looked like it was just a funnel again when that happened. There was some minor damage reported in the NW parts of Austin.
The amazing thing about this storm was how it went through a city with no warning, traveled 21 miles, and nobody was seriously injured or killed. Many people had amazing stories about being caught in the tornado. One person was sucked up out of their basement, while another person was driving and had their car spun around and the windows blown out of it.
To see more pictures of the tornado and the damage from the storm, visit our Photographs and Video Captures Gallery.